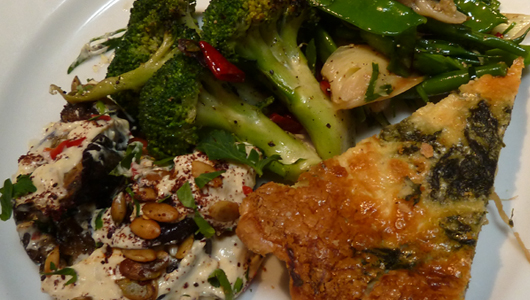 It was sometime last year that I heard of Yotam Ottolenghi and the excitement that has been building around his approach to creating with food; though primarily vegetarian these are no ordinary dishes – each one is crafted with respect to the ingredients to make them stand out and compliment each other.
I ordered both of the Ottolenghi books and tried a couple of the recipes out myself, the results were singing with flavour, however I was a little put off by the number of ingredients that every recipe called for and the difficulty of finding some of them locally.
Colour me surprised then after a short afternoon walk through Canonbury scoping the area out as a future place to live, walking through Islington looking for something to eat with my friend we spotted an Ottolenghi restaurant (their flag-ship, it would seem) and having been umming and ahhing about choices for the past half an hour, literally ditched all interest in the others and flew across the road with my friend trailing after me!
Weekends and lunch times are apparently the busiest periods, and the restaurant is laid out with most of the space dedicated to making the experience for seated customers – so queuing for 30 minutes for a table wasn't the most comfortable, but we did get to try free cake, easy way to win me over really. If you can't wait you can always get something to take away, but really… wait, it's worth it.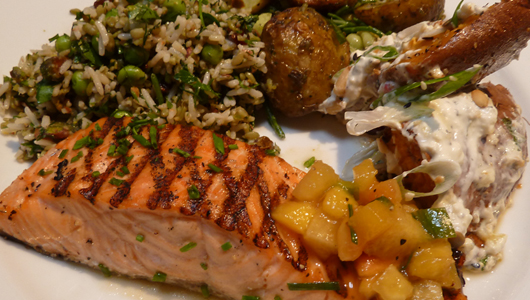 There was so much on the menu that appealed to the both of us, so we decided the only fair way would be to get a main and three salads because two meant we just wouldn't get to try enough; the descriptions below really don't take into account all of the herbs and components of each of these dishes and salads, but its about as close as I can recall:
Spinach and Roquefort quiche with:
Burnt aubergine with tahini
Chargrilled broccoli with chilli
Fresh green bean salad
Seared salmon with mango and pineapple relish with:
Jersey royal potatoes with edamame
Roasted sweet potatoes with pomegranite and yoghurt
Basmati and pea herb salad
First off it's worth saying that the portions are incredibly generous, not that is stopped the hungry two of us polishing off our plates before our neighbours at the table had even made it through their coffee and cake.
The food is clearly good enough to make anybody turn majority vegetarian, everything seems designed to compliment and make the ingredients stand out with a punch; the quiche was full of the distinctive taste of Roquefort, the aubergine was packed full of flavour and melted in the mouth with the tahini and chilli plus other spices (possibly paprika), the brocolli was beautifully charred and the chilli made it pop and the fresh green bean salad was as fresh and crunchy as the waitress had described.
I only tried a little of the salmon but it was something else, the mango and pineapple relish gave it a sweet taste that didn't really feel out of place – more brought it to life than anything, the sweet potato was also lovely.
This is the kind of inspiring food that makes me (and possibly you) get in the kitchen and start inventing similar dishes, taking fresh ingredients and making them sing.
We also bought some cheeky cakes on the way out to try later (no way any more food was going in at that exact moment) – I hear the passion fruit meringue tart was expletive delicious, I've not yet tucked into the hazelnut with ricotta and chocolate tart, or the vanilla cheesecake with cherries that I bought to share with the mother this evening.