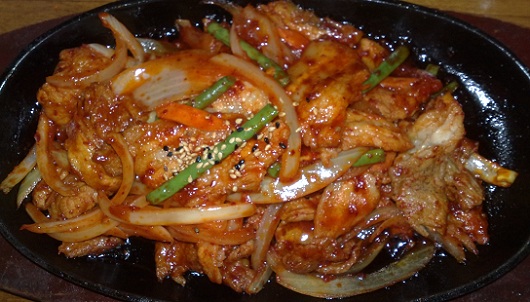 It's been a really long week, and nothing solves that like a bit of a venture of discovery to find somewhere new and exciting. Can't say it was particularly forthcoming tonight, we scoured the usual streets in Soho looking for something Japanese or just rather nommy looking, most restaurants seemed packed but all the tables had no food on them so there was nothing to wet the appetite.
We were about to give up and venture into China Town, but thankfully we noticed a pair of Japanese restaurants on Romilly Street. Kyoto was the first to catch our eyes with the huge photos of delicious looking sushi outside and an impressive looking sushi bar with loads of fresh and tasty sushi waiting to be served.
The staff have to be some of the most friendly I've seen in a long time, especially after a certain incident of outstanding ignorance at Ping Pong Spitalfields earlier in the week. They let us choose our table, they kept us topped up with genmai cha throughout our meal, always had a smile, and were infinitely apologetic for being short on menus.
Before our food arrived, we had to sit and salivate as giant long plates of sushi were carried past us to a large group sat near us, plus the smells of some of the hot dishes coming from somewhere nearby as well.
We probably could have ordered more, but between us we ordered:
Soft shell crab maki
Sashimi platter (salmon, tuna,  sea bass)
Salmon teriyaki
Spicy pork bulgogi
I could have eaten the soft crab maki all night long, puts all the other sushi restaurants to shame with generous portions, freshness, crispiness and taste. Wish I'd taken a photo of the crab but frankly it disappeared almost as quickly as it arrived!
The sashimi platter followed on with really generous portions of salmon, tuna and delicious sea bass, they're definitely dedicated to their sushi at Kyoto.
My spicy pork bulgogi was perfect, matching the quality that I'd gotten used to having eaten bulgogi a fair few times at Corean Chilli recently. Once again every last drop of sauce was mopped up with the rice, who needs to clean the plates when you're customers are licking them clean for you hey?
Snatched a bit of Gary's salmon teriyaki off of his plate as well, crispy skin, fell apart, bursting with teriyaki flavour… I can understand why it disappeared off of his plate to quickly!
If you're searching for sushi in London, you really can't go wrong with Kyoto.