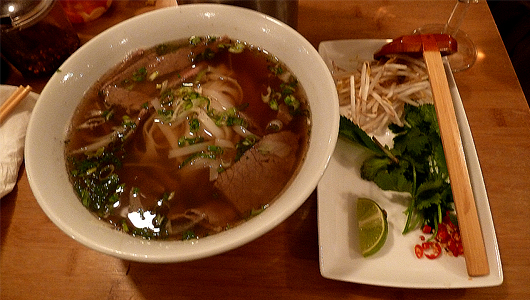 Pho (pronounced more like fah) is a traditional Vietnamese noodle soup; the various types seem to have a combination of different broths, meats and additional garnishes, but essentially the goal is the same – a hot flavoursome broth with packed with fresh noodles, meat and some zing.
Pho also happens to be small chain of restaurants that specialise in their namesake – offering a number of combinations of pho noodle based soups, bun noodles, Vietnamese inspired curry dishes, and other tasty things.
I first tried pho at Cây Tre last year and basically blew my head off (and turned a nice shade of purple) with the 'generous' amount of spice that had been used in the broth, but still beyond the spice there was a lot of flavour.
The experience isn't quite the same at Pho, it's essentially a heavily westernised take on Vietnamese food; the broth for the beef based dishes was a little bland and by my standards needed a fair amount of fish sauce and chilli (plus the squeeze of lime and herbs provided as a garnish.
My friend who hails from Thailand practically emptied a bucket of chilli into his before he thought it tasted even vaguely passable, and even then said it lacked the flavour he would have expected from the broth.
On the plus side the noodles are generally pretty fresh tasting, and you don't have to have them in a broth – they have quite nice noodle dishes with stir fry vegetables or meats that are mixed in with nuoc cham sauce (at it's simplest: fish sauce, lemon, sugar & water) which are refreshing, light and tasty.
Personally I'd suggest that if you are looking for the authentic experience, hunt around by Old Street, or if you're just after a good noodle soup then find a good Japanese restaurant and order a huge bowl of ramen.