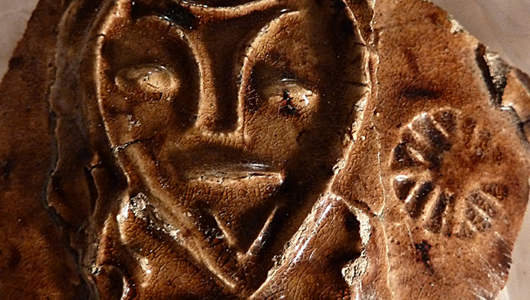 Any history buffs or theatre buffs out there might already know that two years ago some of the ruins of the first ever theatre in London were uncovered during an archeological investigation by the Museum of London.
Yesterday I was lucky enough to join one of the last invite only tours of the ruins of The Theatre and an introduction to the plans of the new theatre that will be built in it's place for the Tower Theatre Company; I got more than just a little wrapped up in the excitement of what they are doing and how poetic it is.
The Theatre was built in 1576 by James Burbage, located in Shoreditch which at the time was just north of the City of London and thus able to escape the persecution of the authorities who back then weren't too fond of theatre players.
This was back in a time when people would go out for dinner or a drink and might happen upon some entertainment, not in a time when they would intentionally go out and pay for entertainment in advance.
A huge shift in how people thought about entertainment, and the venue that saw some of the first works of William Shakespeare both as an actor and as a playwright. It was not to last though as the landlord would not renew the lease and thus The Theatre was taken apart and transported where they then were used in the construction of the famous Globe Theatre.
One of life's wonders then that the ruins of London's first theatre should be found after being lost for so long, only to be found whilst the Tower Theatre Company were hunting for a new premises of their own having lost the lease on their existing premises.
The Tower Theatre Company were founded in 1932 and are a non-profit performing and acting group that not only present up to 18 productions on a yearly basis.
Unfortunately due to funding limitations the archeological dig at the ruins  of The Theatre close in two weeks time, but what has been found will be preserved in situ and the new theatre being built in it's place will be gracefully showcasing the ruins.
The new theatre is will be the first permanent home for the Tower Theatre Company and will also house rehearsal spaces, costume storage, meeting rooms and already has big plans for community outreach in terms of education and theatre coaching.
The groups appeal to raise money for the construction of the theatre has made good progress but still has £3,100,000 to raise.
I'm really hoping that our company is going to get involved in the fund raising efforts, especially after the compelling introduction we received from Tower Theatre chairman Jeff Kelly and a chilling rendition of The Seven Ages of Man by Sir Ian McKellen.
If you're interested in finding out more or contributing to the fund raising efforts:
http://www.towertheatre.org.uk/
http://www.thetheatre.org.uk/