If you're working or wandering near Brick Lane it's worth going to check out the new art event hosting a collection of art by students, first timers and professionals across the country at The Rag Factory on Heneage Street.
The concept is based around producing an atmosphere of a growing visual noise, composed of a mixture of literature and visual artwork with pieces ranging from poetry, performance art, film, sculpture, painting, illustration and creative writing.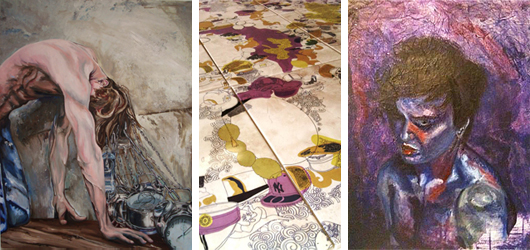 My highlights at Scribbles and Murmurs would have to be Emma Bridgeman's "Weight Of The Subconscious" (which unfortunately Emma can't bring herself to part with), and work by Rokia Begum and Jack Coffin.
It's great to see young talent making a name for themselves, if you want to see the work for yourself make sure you get down there on Friday 25th for the closing night.
Remember to chip in a small donation towards the artists, these events always involve a lot of time and effort on their part, and not forgetting The Rag Factory who are a non-profit organisation designed to support the creative fabric of London.