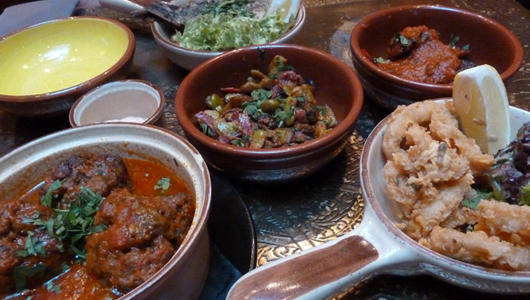 Met an old friend for dinner this evening and having pretty much been busy all day I left the restaurant choice in his hands and also accepted to break my chain of visiting Japanese restaurants in favour of something more 'American or Italian'.
We ended up at somewhere entirely different, El Cantara on Frith Street. Situated a little too close to the theaters for comfort it had a menu board outside touting pre-theatre offers – this should have been more of a warning sign.
When we entered I had to both sigh and laugh at the Moroccan decor, it's only been a couple of months since I got back from touring parts of Morocco and had more than my fair share of cous cous and tagine for the year; had to immediately text my travel companion and groan at the thought of more cous cous.
El Cantara have a split menu, there are some popular Moroccan dishes such as the cous cous dishes and tagine dishes, but there are also heavily Spanish influenced dishes such as paella, and a variety of tapas sharing dishes which are a mix of the two cuisines.
There are deals if you order a number of tapas dishes, so we decided to order the most we could (which is 7 for around £28 if I remember correctly) and share them between us with some olives and freshly baked bread.
The olives arrived and were pretty decent, I ate them all though because I'm the only one that likes olives. The bread didn't arrive at this point, and there was quite a gap between our olives and our sharing dishes arriving which can leave one gnawing at the edges of the table.
When our tapas arrived, it looked pretty bog standard. The squid was okay but the way it was described on the menu made it sound more interested than just simple rings in batter, the meatballs were okay but any Italian would scoff at them, the sardines were mostly a bone minefield, the broad beans were pretty tasty in fairness, but overall most of the dishes were about as interesting as you might expect from chains like La Tasca or Las Iguanas – only not as good.
Our bread never did arrive, our waitress made several calls to the kitchen, and bread did arrive to her several times, but it never appeared to be the right bread, or it went to another table if it was actually our bread.
Would recommend avoiding this restaurant, if you're after tapas try the highly popular Cafe Espana at the end of Old Compton Street is only a short walk away and better value and quality.