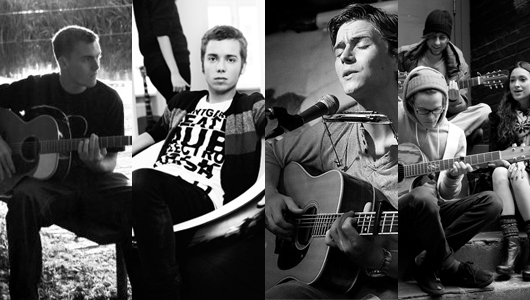 I love music, and I sorely miss the times a few years back when I was invited by Talia over at Londonist.com to review new and upcoming artists on behalf of them, it's such a good feeling to catch artists when they are on the rise to fame and they have a sort of freshness to them and haven't become so big that it spoils the experience.
Apparently luck was on my side this week, a colleague at work happens to be dating the manager of one of those upcoming artists and happened to be able to guest list me + 1 at the "Curious Generation" night being held at Ronnie Scott's bar.
First of all, just have to give a quick prop to how intimate Ronnie's Bar is as a venue, okay the drinks are ridiculously overpriced, but the bar staff are friendly, the atmosphere is good, and you are literally right in front of the act performing.
Curious Generation are an events and PR agency from what I can make out, and they are bringing new artists to lots of well known and established venues with the hope of attracting the record label A&R folk and getting some of these new artists signed.
Four acts performed at Ronnie's Bar, all with a range of styles and appeals.
Ryan Keen was first up and really struck a chord (oh, pardon the pun) with Chris and I, Ryan had a lot of similarities in his acoustic guitar playing style to those of Newton Faulkner who we fell in love with years ago whilst I was doing the review circuit for Londonist. Using his guitar as more than a stringed instrument by tapping in various places to squeeze out different drum like sounds, and finger picking riffs whilst also picking off different bass note riffs.
If you can excuse Ryan's management lurking in the corner of your eye wearing suits about three times too large, he's definitely worth checking out and is performing all over London as a warm up for other acts and on his own with Curious Generation.
Mads Langer is the guy we'd come to see, and for an absolutely tiny sized Danish lad, he packs a vocal punch. Not really the kind of music I'd listen to normally as it was vocally heavy and a bit overpowering in the small and intimate venue (even spotted the sound guy turning him down frequently), but you've got to give him credit for his vocal range.
Not quite as talented as some of the other acts when it came to his guitar playing, and he did look rather a lot like his head was going to explode when he hit some high notes, but I think I'd like to see him perform with a band (which apparently he does normally).
The Boy Who Trapped The Sun (or Colin MacLeod for those that like real names) was a tough cookie, and I think my view of him was pretty much skewed by not being 100% sure if he was a depressive, or had quite heavily been at the booze prior to his performance. Either way, if you're going to get up on stage and win people over, then you should at least look like your enjoying yourself, or not bother doing it at all.
I'm not saying the guy was bad, it was just the rest of the package. Maybe on other nights he'd be worth seeing!
Kurran and the Wolfnotes probably deserve an apology, at this point Chris and I decided it was home time for us oldies and we left early on in their set. That and I was only really interested in listening to the Gibson jazz guitar and for some reason it was turned right down, boo.
Overall though, a great night. I'd be tempted to go back to Ronnie's Bar again if they ran similar nights, or maybe I should be chasing Curious Generation around town instead.