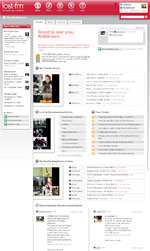 For those that aren't already part of the revolution in discovering music that is Last.fm, it's the flagship product from the same team in the UK that first brought us the AudioScrobbler music engine.
AudioScrobbler builds a music profile based on the artists and tracks that you listen to using either the Last.fm Player or via a plug-in for your favorite audio player.
Last.fm uses the data collected by AudioScrobbler and adds features such as social networking, tagging, forums and also journals to the mix, offering many ways for you to share your musical tastes with friends, view similar artists to the ones built up in your music profile, listen to samples of your recommended artists and much more.
Some of the most interesting features that I use most often are the ability to read about an artist that I am passionate about, and then view similar artists and explore their musical offerings.
Tag based exploration is also a favorite feature of mine, along with tag based radio allowing users to listen to randomized tracks belonging to a particular genre.
The new offering from Last.fm now includes a shiny new dashboard element that breaks down into the following sections:
My friends online – a summary of which of your linked friends are currently listening with Last.fm and the most recent songs that they've been rocking their feet to.
Last.fm Recommended Artists – a short list of artists that you might be interested in based on your previous listening habits, and also a collection of free songs that you can listen to in full.
My Weekly Neighbours Online – other Last.fm users who have similar music profiles, and the last track that they listened to.
Recommended Recent Journal Entries – journals written by other Last.fm users that have been linked to artists that match your music profile, or from groups that you have joined in the forums.
Overall the new features provide even faster access to exploring new music that is matched to your listening habits, and the new design which is still being tweaked with shows a lot of promise of being more appealing to less technically minded users.