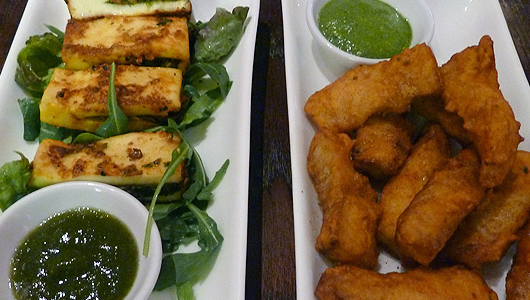 For someone that really enjoys food and spends quite a lot of time and money 'investing' in London restaurants (that's code for getting fat), I'd completely failed to get on the TasteLondon bandwagon (sorry, that's now tastecard) – it's the magic little black and green card that gets you either 50% off your food bill or 2 meals for the price of 1.
That's all changed this week, tastecard were going a half price deal on their annual membership, and they've also announced that they are supporting Macmillan Cancer Support this year which is great news, I decided it was time to take the plunge!
My card arrived early this week with a nicely printed coffee table book of restaurants that makes your stomach beg you to go and fill it up, so I decided to break my tastecard virginity and book in at Imli, the Indian Tapas on Wardour Street that I've walked past many a time and thought 'that sounds nice, if a little pricey'.
You need to phone in advance for most of the non-chain restaurants, which was easy and welcoming, however when we got to Imli we were made to feel a little bit uncomfortable by it being mentioned at least three times by two different waitresses that we were tastecard customers and what we could get 50% off on.
Swallowing my pride and assuming it was just their attempt at being clear, we looked around and saw an array of really delicious looking food, and we jumped into the menu ordering roughly three dishes each off of the a la carte menu.
We ordered:
Lemon rice
Potato naan
Stuffed paneer (spinach, mushroom, potato)
Chennai fish (I think?)
Lamb biryani
Chicken haryali
Duck with honey
The food arrived pretty quickly which was surprising, usually in an Indian restaurant you're left waiting with the aroma of spices floating over you until you start to salivate (or until you get drunk enough to tolerate the food, in some restaurants!) – makes you question the freshness of the food a little.
Most of the dishes we ordered we actually quite nice, though some of the meat was a little tough, some of the non-spicy dishes were actually a lot spicier than they'd been described in the menu, and the fish is definitely an acquired taste – probably best avoided unless you've had it before and are used to the taste.
In retrospect we probably ordered far too much food in an attempt to try as much of the menu as we could, and we ended up leaving quite a lot. Still, that's an easy mistake to make when you're getting 50% off the food, a mighty saving of £20+.
It would nice to visit again and sample some of the vegetarian dishes, but maybe in smaller quantities rather than trying to eat the entire kitchen.