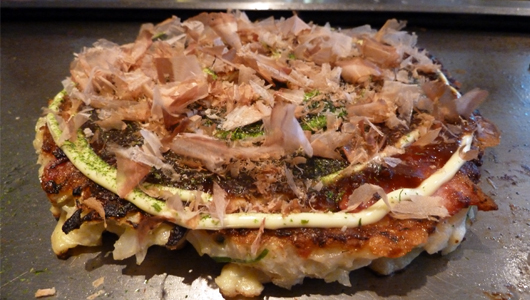 I've been bad, found a few drafts of restaurant reviews that I hadn't gotten around to finishing or published lurking amongst the others, thought it was about time to start going through them and finishing them. It was made easier for Abeno Too because I went back there for the second time just this week!
I read about Abeno Too on Great Newport Street when I was looking for something similar to the kind of experience you get with Teppenyaki, something that's fun to take a group of friends out too, so I went in not really knowing what to expect other than a "Japanese omelette".
Okonomiyaki has a batter made with grated yam, eggs, shredded cabbage or spring onions, and can contain all sorts of other ingredients. Abeno Too have  a great selection of different ingredients selected for you. We chose the London mix, which contains salmon, pork and cheese with bacon layered on top.
It's a wonder to watch, not quite the same as Teppenyaki where it's all about the show, but there is definitely skill to it. From the way they bring the ingredients out and introduce them to you to the mixing, pouring, shaping, cooking, flipping, stomach growling, and finally the decorating before finally letting you dig in.
The smell whilst your okonomiyaki is cooking is tantalising and leaves you wishing you could just hit a fast forward button, but it's really worth waiting for your server to dress it with a spiral of Japanese mayonnaise, a spiral of okonomiyaki sauce (similar to Worcestershire sauce),  seaweed flakes and bonito flakes (dried smoked tuna flakes). The bonito flakes wave and move in the heat which almost make them look alive, it gets people every time!
You can also get a variant of the dish with a layer of crispy noodles on top, I haven't tried this or the noodles inside a rolled omelette (similar to a traditional phad thai) yet but there were frantic nomming sounds coming from people that did have those dishes.
It's worth trying some of the smaller dishes too, the asparagus and goats cheese baked gyoza are a tasty vegetarian option, or you can have chicken gyoza fried freshly at your table. If you like tofu make sure you try the agedashi tofu, it's some of the creamiest tasting tofu I've had other than at Haozhan.
Overall Abeno Too can come in a little more expensive than some other Japanese restaurants, but the quality of the food and the experience makes it well worth it.