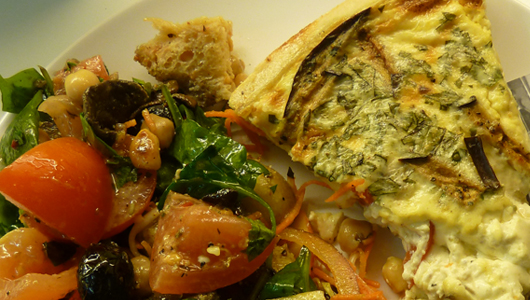 Lunchtimes at work often seem like some bizarre holding pattern these days; circling all the usual favourite spots in the hope that they've spontaneously rolled out a new and exciting menu that will inspire the palette, only to be disappointed in the same old choices and moving on – potentially ending up with something that you didn't really want.
This is the curse of having too much choice around you, it becomes impossible to make a decision where to go and new things become the only appealing choices.
Good thing then that after a couple of years construction, the Nido Student Living tower in Spitalfields has been completed and several unique (non-giant chain) restaurants have sprouted up on the ground floor offering some new choices!
Just off from Bell Lane – near Artillery Lane – Kastner and Ovens have opened up their second branch serving up a variety of hot dishes, salads, pasta dishes and a huge range of cakes freshly made on a daily basis.
The menu doesn't change as often as they claim but there are minor tweaks and additions from day to day that can keep things interesting, and the quality of the food is pretty exceptional compared to some of the other local fare.
So far I've sampled some of the salads which were all tasty (though I did get a shock when eating some potatoes and getting a shock of roast garlic in there), the haddock fish cake – which was both gigantic and tasty, and the roasted vegetable quiche – which had wonderful pastry with a firm but wobbly filling – yum.
If you're short of somewhere for lunch, try Kastner and Ovens either just off from Spitalfields, or in Covent Garden on Floral Street, hot foods range from £3-5, as do salads, so maybe something hot and a small salad.