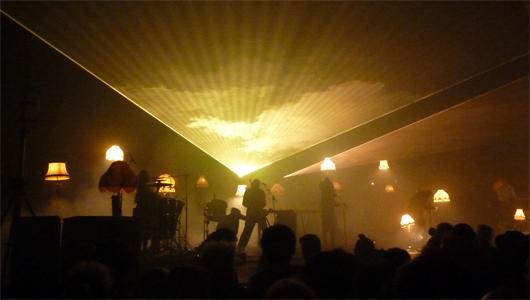 It's probably considered blasphemy by many to say this, but I was never really a great fan of The Knife until lead singer Karin left to pursue her own solo project as Fever Ray, but since then it's fair to say I've been hooked.
What luck then, that on the night of Karin's last gig as Fever Ray before she goes back to a new project with The Knife, that I happened to have a pair of tickets to the Brixton Academy show.
We got there predictably late and this turned out to pay off rather well as the general murmurs about warm up act Zola Jesus weren't exactly bursting with enthusiasm, apparently she was bouncing around the huge stage wildly on her own whilst everyone else seemingly had no clue of what was going on.
The atmosphere really had some time to build up, for at least 30 minutes the audience was left with some eerie music whilst the academy was pumped full of smoke, I think even the folks in the front row probably would have struggled to see through the smoke and actually get a clear glimpse of the stage!
Then still in utter darkness came the alternating throbbing of 'If I Had A Heart', sending a chill over the crowd for two minutes before the lasers that have been a trademark feature of Fever Ray's shows kicked in and gave us a glimpse of the stage.
The show was better than I could have imagined, whilst all the time being so stripped back and simple – something that should be easy for every artist to get right but actually pulled off well by so few.
The lighting was provided by lasers cutting through the smoke and forming patterns that looked like clouds floating across the sky, and the bass was punctuated by lampshades on the shade fading in and out with the heavy and lighter beats.
I don't know how they did it but the bass was body trembling and intense, it felt like the music was trying to flow straight through us rather than just tingle our ear drums!
Highlights of the night were 'Coconut' (which I may have taken a sneaky video of), 'Concrete Walls', 'Dry and Dusty' and 'Triangle Walks' which all really seem to achieve that trance like state that the bass, awesome vocals by Karin and percussion bring together.
Looking forward to seeing what The Knife will get up to now that Karin has returned.