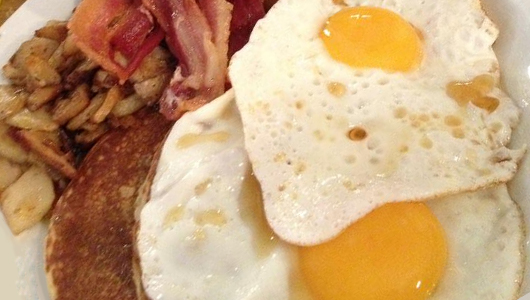 Do you ever have that feeling towards the end of the week that your little internal bucket of happiness is running a bit low, the stresses of the week keep knocking it over and you really just need something really bad for you to slap that smile back on your face and carry you through to the weekend?
No? Oh well I do at least, and nothing seems to hit the spot better than one of the All American breakfasts at the The Breakfast Club; when their Spitalfields restaurant first opened I have to admit I was a bit skeptical that it was going to be pretentious and overpriced, fair enough it is actually a lot more expensive than some of the local cafes in the area that'll fill your belly for half the price, but it's worth it.
Start with two fluffy pancakes, lay on some perfect eggs (have them scrambled, fried or poached), stick some crispy bacon on the side that looks like it was attacked by a deep fat fryer, squeeze in some potatoes and onions, a single lonely sausage, and then drench the lot in maple syrup.
Belly busting, works every time, even if you do need someone to roll you back to the office afterwards.
If giant breakfasts aren't your thing the menu still shouldn't disappoint; other breakfast options, mammoth burgers, fajitas and wraps, salads and egg dishes fill it to the brim, though if you're looking for a healthy option it's worth  noting even the caeser salad is devastating.