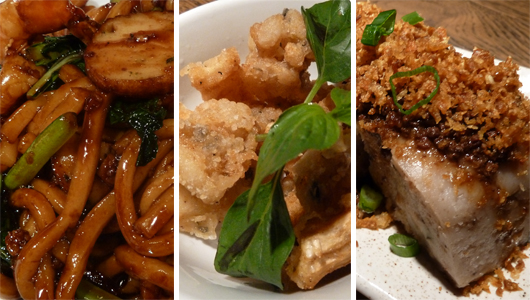 It's been a busy few weeks at work so I haven't been very good at keeping my blog up to date, but I have managed to squeeze in a few meals at various restaurants with friends, which is probably the only reason I've retained any measure of sanity!
One notable spot recently is Cha Cha Moon, hidden away in Kingly Court just off of Carnaby Street it's not exactly well advertised, it has all the makings of a true hidden gem (apart from the fact that it's hugely popular and always packed full of noodle slurping punters).
There is a small outdoor area in the courtyard, and inside an interior that is sharp and clean, with a good layout of benches that are separated into fours so small groups get at least a small barrier from other diners.
The kitchen space is enviable, and you soon understand why your order reaches your table so quickly in comparison to the likes of Wagamama which often seems to have those long but thin kitchens that makes it impossible for anyone to pass each other.
The menu is primarily dedicated to a variety of noodle dishes such as noodle soups, lao mian and a huge collection of wok noodle dishes. They also serve up some curries with Thai influence, plus some mouth watering side dishes too.
Service is prompt, your drinks are brought to you quickly (in my case a huge pot of jasmine tea) and food follows shortly after with the now popular "dishes arrive at different times" warning attached to them. Quality doesn't seem to be sacrificed in this speed, they genuinely seem geared at churning out good quality food quickly.
On the few visits so far some friends and I have tried mains of seafood ho fun, Fujian style udon noodles, jasmine chicken all of which were pretty decent and tasty… though a word of warning to those that are sensitive about spicy things, the level of spice does seem to vary so ask before ordering!
We've also tried the Szechuan won-tons (spicy but delicious), Taro cake (acquired taste – requires more than one person to eat unless you've got a really big appetite), Cha Cha mooli (very rich but really tasty) and the Chinese basil calamari (crispy joy!).
If you're looking for somewhere quick to eat, or you're a noodle maniac then you absolutely have to give Cha Cha Moon a go, and take some friends so that you can share the side dishes without feeling guilty!